Cover Artist: Reese Dante
Dreamers' Destiny
Length: Novel/200 pages
Genres: Gay (M/M), Erotic, Contemporary, Occult/Paranormal, Romance
People don't just materialize into reality simply because you want them to so desperately that waking up breaks your heart.

Liam Grady is the owner of the Feathered Quill, a quirky little bookstore in Asheville, and—though he doesn't realize it yet—a dream walker. His last relationship failed almost a year ago, and he's not had the interest or nerve to pursue anyone he's met since.

Cameron Danu is a tattoo artist from rural Georgia. Cameron is left without a job after his boss, Jose, is forced to close the shop after a heart attack. When Cameron learns Jose has set up an interview for him at a small tattoo parlor in Asheville, he hopes for a fresh start in a new town.

Fate brings Cameron and Liam together, and they realize they've met before—in their dreams. A chance encounter and a winged tattoo might lead them to their destiny—if fear doesn't turn their dreams into a nightmare.
Welcome to the Dreamers' Destiny Blog Tour. I want to begin with special thanks to Dreamspinner Press, my publisher, and for whom without there would be no book
:-)
.
What is a Dream Walker and Dream Weaver?
Well now, that can be a little hard to explain to some. As defined by Urban Dictionary (yes, I know, not the best source, but it'll have to do for now, sorry), a dream walker is
1. A lucid dreamer (person able to take control of or actively determine the path of their own dreams).
2. Person who appears frequently in or who vividly haunts your dreams, usually in a positive way.
3. Native American who gleans information from the dream world.
4. One who experiences a type of out-of-body experience, akin to astral projection.
As for a dream weaver…
"I am a teller of stories, a weaver of dreams. I can dance, sing, and in the right weather I can stand on my head."
To weave is to make fabric, right, so a dream weaver is someone that creates dreams.
What all that means for Liam is that he's traveled in his dreams to find Cam since he was 17, though he didn't realize that's what he was doing. He's a natural walker with the potential to be a weaver. He knew he could lucid dream, but the idea that Cameron was real, that he was someone that Liam could actually find and have a real relationship with, was not something that ever crossed his mind because dreams aren't real. Right? Right! Well… for some, it seems, that might not be quite true. That's the basis of Dreamers' Destiny, really.
Thankfully for him, he's able to learn not only how to use his abilities, but how to grow in them. But really, what would you do if you found out your dream guy (or girl) was real because you stumbled over them? How would you react? I can't imagine I would be too suave or coherent, lol. You?
Cam screamed, his body tightening painfully around Liam, but Liam kept pounding through Cam's release, not ready to end the pleasure for either of them. He slowed when Cam's body sagged and his channel unclenched, but did not stop.
He reached around Cam and scooped up some of his spend to use as lube. He wrapped his large hand around Cam's half-hard shaft and stroked in time with his gentler thrusts, squeezing and tugging the way he knew Cam liked best.
The jolt under him from Cameron made him chuckle, as did the begging that started back up again. "God, you're trying to kill me, aren't you?"
"Nope," he argued, adding a twist to the head of Cam's cock as he stroked and thrust. "But I can never get enough of you, so shut up and let me love you," he demanded.
He pulled out and flipped Cam over, needing to see Cam. Looking into Cam's stormy gray eyes wasn't a want; it was an all-encompassing compulsion.
"Keep your eyes open," he barked. As soon as Cam opened them again and met his gaze, he slammed back inside, thrusting so hard he shifted Cam up the bed in increments. "I need to see you come for me, baby. Please, come." His voice bottomed out on the last word.
Electricity crackled deep in his gut and spine, his balls pulled up tight, but he couldn't go over the edge until his lover did. When he wrapped his fingers around Cam's angry red member again and pulled, Cam arched back and his mouth dropped open, but no sound came out. His dick spewed shot after shot of viscous white fluid over Liam's hand and abs.
The sight alone sent Liam hurtling over the razor's edge he'd been hovering on, his body throbbing in time to his heartbeat as he emptied into Cam's body. With the last pulse of his dick, his arms gave out and he slumped down onto Cam's chest, spent.
After a moment Liam shifted and gently withdrew before he collapsed on his side. When Cam didn't move, he chuckled, pulled him over, and wrapped his body around Cameron's still-trembling form.
"Hmm?" Liam nuzzled his lips against Cam's nape.
Confused, he shifted so he could look into Cameron's eyes. "For what, baby?"
"For being so good to me and always knowing what I need." Cam leaned in, brushing his lips against Liam's so softly, they barely touched.
"Dammit," Liam Grady growled as he opened his eyes to the early morning sun peeking through his curtains. He turned his head away and tried to ignore the evil little noisemaker on his nightstand. Even though he knew it was useless, he reached out and smoothed his hand over the cold sheets.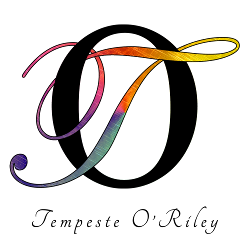 Tempeste O'Riley is an out and proud pansexual genderfluid whose best friend growing up had the courage to do what they couldn't—defy the hate and come out. He has been their hero ever since.
Tempe is a hopeless romantic who loves strong relationships and happily-ever-afters. They has done many things in their life, yet writing has always drawn them back—no matter what else life has thrown their way. They counts her friends, family, and Muse as their greatest blessings in life. They lives in Wisconsin with their children, reading, writing, and enjoying life—especially now that they have joined the Sisters of Perpetual Indulgence® (as Novice Sister Eroti-Quill… can't imagine where that name came from).
Tempe is also a proud PAN member of Romance Writers of America®, WisRWA, and Rainbow Romance Writers. Tempe's preferred pronouns are they/them/their/theirs/themselves. To learn more about Tempeste and their writing, visit
http://tempesteoriley.com
.
Learn more about Tempeste and her writing.
I hope you'll follow the entire tour
HERE
. There are plenty of chances to win a signed paperback copy from my backlist, $25 at Dreamspinner Press, an audiobook of either
Designs of Desire
or
Caged Sanctuary
, and more!